Dena White, District Superintendent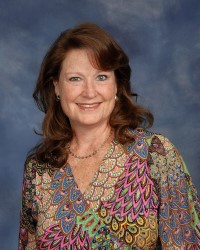 Having grown up in seven different and varied states, Dena has been proud to call North Carolina home for 35 years.  Born in Virginia, her father's job moved their family to Maryland, California, Hawaii, Nevada, Florida, and Missouri. Dena returned to Virginia where she graduated with a B.A. from James Madison University, then moved to North Carolina where she earned her MDiv at Duke.
While Dena served and led in youth and college ministries, her professional ministry began in 1988 as Associate Minister of First UMC in Elizabeth City.  It was there that Dena met and married Tom who recently retired from the NC Forest Service after 31 ½ years. They have laughed and loved through the adventure of marriage for 29 years.
From Elizabeth City, Dena and Tom moved to Rockingham where Dena served as pastor of East Rockingham UMC for 7 ½ years.  During that time, they were blessed with the gift of their daughter Laura Grace.  After receiving news of a rare genetic syndrome which would shorten Laura Grace's life, Dena took a leave of absence. Laura Grace lived 4 ½ beautiful years and she continues to make their hearts smile every day!
While on leave, Dena continued to serve in ministry as part-time interim pastor to Candor Presbyterian Church.  Working with the Charlotte Presbytery, she helped establish Iglesia Misionera de Candor and led the first bi-lingual Pentecost Service.
The Holy Spirit also birthed the ministry of God's Garden in Candor. This ecumenical ministry with many partnerships received a $40,000 grant from Duke Endowment and continues to thrive contributing over 30+ tons of produce to food banks and pantries each year.
Dena returned from leave to pastor the Norman Charge for 6 years.
Following the Spirit's lead, she initiated a working group of churches crossing denominational and racial lines willing to join hearts and hands to plan and lead annual revivals and other community worship services, as well as community outreach events.
Before this most recent appointment, Dena was blessed to share in ministry with Westminster UMC for two amazing God's-Love-at-work years.
All of the ministries of which Dena has been blessed to be a part, have always been the result of many faithful and faith-filled lives willing to share God's forever love to make disciples of Jesus Christ for the transformation of the world!
From her first sermon at the age of 8 created in her back yard after a race riot, Dena's heart has always been drawn to ministries that dissolve the barriers which too often separate.  She trusts the power of God's love to make all the difference and seeks to live into and out of
John Wesley's wonderful question and answer:
"Though we cannot think alike, may we not love alike?  May we not be of one heart, though we are not of one opinion?  Without all doubt, we may."
Nancy Martinez, Capital/ Fairway Administrative Assistant to the DS

I am so blessed and excited about serving as the Administrative Assistant for the Fairway District!  I was born and raised in the Bronx.  Since a very young age, I have always enjoyed serving and helping others; therefore, I pursued a career in mental health. After graduating I relocated to Miami, Florida, where I worked as a Social Worker for 17 years at the University of Miami Child Protection Team, where I conducted assessments of children and families due to allegations of child abuse and or neglect. In 2012 my husband, Rafael Martinez, and I took a leap of faith and I relocated to Clayton, North Carolina and shortly after our move he was appointed Associate Pastor at Greater Heights UMC to plant a Hispanic church. Here in North Carolina, I worked as an Intensive In-Home Therapist at Easter Seals serving children with a variety of disorders including autism, bipolar, schizophrenia, depression and other mental health disorders.
I gave my life to God when I was a teenager and I have served within the United Methodist Church for over 35 years in many capacities, such as SPRC chair, youth leader, children's choir director, Sunday school teacher, Vacation Bible School Director, Leader of the Women's Ministry and as event planner for the church. I am a Consecrated Stephens Minister and a certified Coach with Passion in Partnership. I am currently offering coaching services to African American UMC Churches participating in the Renew and Connect Retreats and I will be serving as a delegate in this year's Annual Conference.  I sincerely consider it a blessing and privilege to serve in these positions and to share God's unconditional love with others.
I have been married to Rafael for 10 years and have been blessed with two biological children, Valerie Irene and Leuvis Daniel, who also live in Clayton and two additional children, Liliam and Marcos, by marriage. I am the proud grandmother of four precious grandchildren, who bring the most joy to my life. I greatly enjoy spending time with my family, cooking, reading and traveling.
Shannon Jones, District Lay Leader
Shannon Jones is thrilled to be serving with us as the Fairway District Lay Leader. Shannon is a nurse and currently working as a Manager and Educator for in Care Management at a local hospital.
Shannon is married to Patrick Jones, a Fairway Pastor appointed to the Buckhorn Ebenezer Charge. They have been married for 12 + years. Shannon has a passion for outreach and mission at the local, national and international levels. Shannon has served in the local church on essentially every committee as well as on district committees and as head usher for the NCCUMC Annual Conference. Shannon has a special love for animals. She and Patrick are enjoying incorporating their therapy dog into ministry.